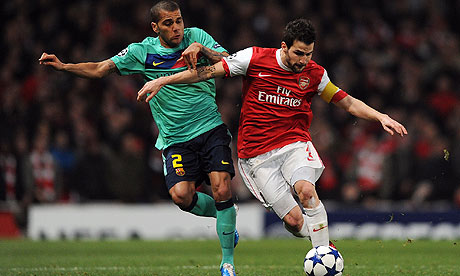 We've got Cesc Fabregas.
And Jack Wilshere. And Robin van Persie. And Andrei Arshavin...
Arsenal 2: van Persie 78, Arshavin 83
Barcelona 1: Villa 26
It's a pivotal month for Arsenal (but you know that already,) with a chance for silverware at the end, plus three other competitions of arguably more importance to worry about. Domestically, Manchester United looks catchable at the top of the Premier League, the Carling Cup final is the 26th, and a win on Sunday at Orient brings Arsenal to the quarterfinals of the FA Cup.
Ah, but in Europe, it's a whole different monster, and thanks to losses in Donetsk and Braga in November, Arsenal started the knockout phase of the Champions League behind the eight ball, having not won their group. Their reward was Barcelona, the team that just can't stop fucking talking about Cesc Fabregas, the team that forced Arsenal out of this competition last year with a bit of a thrashing at Camp Nou, the team that plays the same style of football so well, you almost can't be blamed for developing some sort of inferiority complex.
But, with that draw comes an opportunity to taste revenge. A win at the Emirates on Wednesday night wouldn't put Arsenal through, of course, but they'd have the upper hand going away, and have given Barcelona something to think about. And oh boy, what a win it turned out to be.
Arsene Wenger made two changes to the side that beat Wolves at the weekend. Bacary Sagna was suspended, after picking up a red card in the final match of the group stage in December, so Emmanuel Eboue deputized at right back. In the slightly more surprising change, Samir Nasri was not just fit to join the squad, but he was also fit to start the match on the left wing, dropping Andrei Arshavin to the bench.
From the start, Barcelona started tippy-tappying it around for a minute or two, but unlike last year's encounter at the Emirates, Arsenal actually showed up at the start, and had the better of the chances through ten minutes. From a free kick, Samir Nasri dinked a ball on goal which Alex Song could not quite reach to redirect, and Victor Valdes in goal handled easily. Valdes later made a brilliant save on a tight angled shot from Robin van Persie. A few other Arsenal chances went begging as the final passes were too strong or the final touches were too heavy.
The bad news in the first ten minutes was the early booking of Alex Song, who clipped Lionel Messi before he could do anything too Messi-like about 35-40 yards out in the seventh minute. Throughout the first half, Song walked a fine line of picking up a second yellow card, which would have completely changed the complexion of this match.
Barcelona started to click after the ten minute mark, as the tippy-tappying resumed, and in the 15th minute, Messi should have put the Catalans up 1-0. David Villa sent him a through ball which saw Messi clear in on Wojciech Szczesny. The Pole stayed up as long as he could, but was eventually drawn to make a move, and Messi maneuvered brilliantly to flip a shot past him, which twisted just wide of the far post.
Despite all of Barcelona's building pressure, Arsenal nearly struck first on a brilliant counter-attack of their own. The pace of Theo Walcott started a chance as he picked out Cesc Fabregas on the break. Fabregas lined up a cross for van Persie, but Eric Abidal got a head in the way just in time. Then, Barca streamed forward and as Lionel Messi sent a through ball for Villa in the midst of Arsenal's offside trap, Gael Clichy backpedaled for no reason and played Villa on. From there, the finish was academic.
Much of the second half proceeded with Barcelona controlling the possession and tippy-tappy-tippy-tappying (I'm trying to include that phrase in as many paragraphs as possible.) Arsenal defended tenaciously, as you must against a team like this, to keep the match 1-0. A second goal was ruled out for Messi being offside and Szczesny made a huge save on Pedro as well. Yet, the feel at halftime was more optimistic than it was in either match with Barcelona last year. Sure, Arsenal was trailing, but they had created some chances this time. It felt like an equalizer could happen, as long as Arsenal could keep Barcelona from scoring again.
What the hell is that logo? I think it says, "Fuck Adebayor."
Pic via Daily Mail.
The Gunners had a strong start to the second half, and controlled a lot of the play throughout, but as in the first half, many of the chances went begging. It looked like, as Messi was, Robin van Persie was just not quite on form on this night. I guess he just wanted to fool us for 78 minutes.
Alex Song was removed for The Diminutive Russian, Andrei Arshavin, in the 68th minute, as Arsenal looked for more offense. Arsene Wenger spoke post-match about how the move could have backfired, and Arsenal could have found themselves two or three down. Alternatively, Song could have found himself with a second yellow, so not making the substitution could have backfired as well. So, who knows. Nicklas Bendtner came on for Theo Walcott in the 77th minute for a change of pace and style, i.e. the only really good way to use Bendtner, in my opinion.
Jack Wilshere's maneuvering won a corner kick as the clock reached 78 minutes. Arshavin took it, but Valdes caught safely. Then, Arsene Wenger angrily unzipped his coat. As Barcelona moved forward, Arsenal won a free kick at the halfway line and eventually Clichy found van Persie at a tight angle. From the byline, van Persie fired on goal, from an impossible spot, and managed to beat Valdes near post to make it 1-1. A brilliant, goal scorer's strike. And RVP's 12th goal in 12 games.
And so, the tide had turned. Barcelona tried to muster a challenge, but Laurent Koscielny (who was excellent) intercepted from Messi in the box. Wilshere hit Fabregas with a pass, and he played a powerful through ball for a breaking Samir Nasri, onside. Nasri ran out of space as he was closed down by the defense, however, so he cut back and sent a pass back toward the center. The pass found Arshavin, who thundered in a winner from 15 yards. And every Arsenal supporting place in the world went nuts.
Arsenal probed a bit for a third, but would not come up with it, then Szczesny made a tremendous stop in the dying moments before a Messi shot was blocked by two Gunners. At the final whistle, Arsenal sealed a 2-1 lead they will take with them to Camp Nou in three weeks. And, as tough as that match will be, not only was Arsenal able to fire a warning to Barcelona that this is not the same team that rolled over for them last year, but they were also able to build up a huge confidence boost moving forward into the four crucial domestic fixtures that come before the return leg. Arsenal have, in addition to two cup ties, Stoke and Sunderland at home in the league while United have road trips to Wigan, Chelsea, and Liverpool.
By the time Arsenal plays at Camp Nou on March 8, the landscape of this season could be quite different on all fronts, and with the way things are shaping up for the Gunners, it looks quite positive. Nobody knew how this team would react to blowing a four-goal lead at Newcastle. Well, their two performances since have been nothing short of spectacular. And it's a damn good time to be a Gooner these days.
Hipster Gooner Man of the Match: Jack Wilshere